Abby mouldings have just completed working with McCarthy Contracting on this stunning renovation project in the village of Holcombe, Devon.
Sitting grandly on the cliffs with breath-taking views westwards down Devon's famous coastline, are seven incredible and very different properties, fashioned of the historic Holcombe Hall and its grounds. Abby Mouldings are incredibly proud to have been involved in bringing this 19th century derelict property back to life, which is now selling as individual properties.
There will be a variety of properties at Holcombe Hall ranging from a 3 bedroom coach house, 3 bedroom houses restored from the original hall and 4 bedroom houses built alongside the Hall. The largest property that will span almost 4000 square feet is set within its own expansive gardens. All of the homes will have access to a private pathway which leads to the beach, less than 100m away.
As you can see from the images below, there was substantial damage to the original cornice, coving and plasterwork which needed repairing along with repairs to walls and ceilings.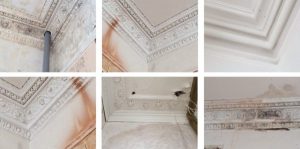 These homes have been designed with every detail in mind, and each element has been carefully considered to create a home that is filled with high-quality materials and contemporary design.
The images below show the new and repaired cornice and coving and the stunning finished rooms at Holcombe Hall.