Plaster cornice has been used to decorate buildings for centuries and can restore a properties original features or bring a new modern, but classic twist to a building. Contemporary coving and cornice trends can impart a real sense of elegance to your décor and they provide a classic elegance to any contemporary design beautifully.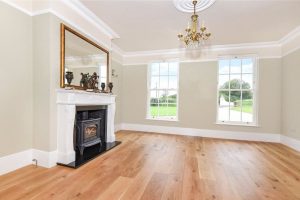 Traditional plaster cornice (or coving, as it is sometimes wrongly referred to in the modern world), can also be used to add another dimension to a room, for example, in a modern room decorated in neutral colours, coving can be used to break up the neutral tones and give the room an elegant feel, or add drama to an otherwise plain room.
Many people can associate cornice and coving with older period properties and listed buildings, and a major part of building renovation is the restoration and recreation of these original pieces. Old cornice and coving can be replicated by creating a template for a mould from the original plaster mouldings, and making new matching pieces.
Cornice or coving: what's the difference? Find out here…
You could even have your own designed created to match in perfectly with your plans and ideas for the restoration or refurbishment of a property or room.
Choosing the perfect cornice really depends upon the type of property or room you are restoring or renovating. Older properties with high ceilings and large rooms would benefit from grand and ornate pieces, whilst a simple, plain cornice can really add a touch of luxury to a modern room.
When choosing plaster mouldings for your property, whether you're looking to buy cornice online, or even looking for someone to design, supply and fit the coving for you, it is best to seek the advice of a professional who can guide you in the right direction.
Plaster Mouldings: A Renovator's Guide – Read more…
Abby Mouldings are based in Devon, we have helped many customers from Cornwall to London and beyond and have the necessary skills to recreate and restore virtually any type of damaged original ornamental interior mouldings. We offer a comprehensive range of classical, traditional, and contemporary fibrous plaster decorative mouldings, including cornice (covings), panel mouldings, ceiling centres, niches, centre pieces and archways.
We specialise in restoring and repairing beautiful plasterwork and interior mouldings in period properties that have been damaged and can even create new pieces from segments of old plasterwork to bring your property back to its original splendour.
If you would like to talk to us about your project, please get in touch by calling 01626 830500 or click here to get in contact through our website.